POMEN omega-3
V TEKMOVALNIH ŠPORTIH
Članek z naslovom Omega -3 maščobne kisline – stopnje v tekmovalnem športu!, ki ga je napisal
dr. Clemens von Schacky in je izšel v nemškem časopisu športnih zdravnikov Sportärztezeitung,
govori o pozitivnem učinku Omega-3 maščobnih kislin v tekmovalnih športih.
V nadaljevanju smo za vas povzeli vsebino članka.
Pozitivni učinki Omega-3
na mišice, srce in sklepe
V Nemčiji in ZDA lahko pri tekmovalnih športnikih opazimo zelo nizke ravni Omega-3 maščobnih kislin. Za analizo ravni pomembnih morskih maščobnih kislin Omega-3 (EPA – eikozapentaenojska kislina in DHA – dokozaheksaenojska kislina) v rdečih krvnih celicah je bila uporabljena metoda HS-Omega-3 Index®. Medtem ko za optimalen razpon velja 8 – 11 %, so pri športnikih v povprečju izmerili precej nižji indeks.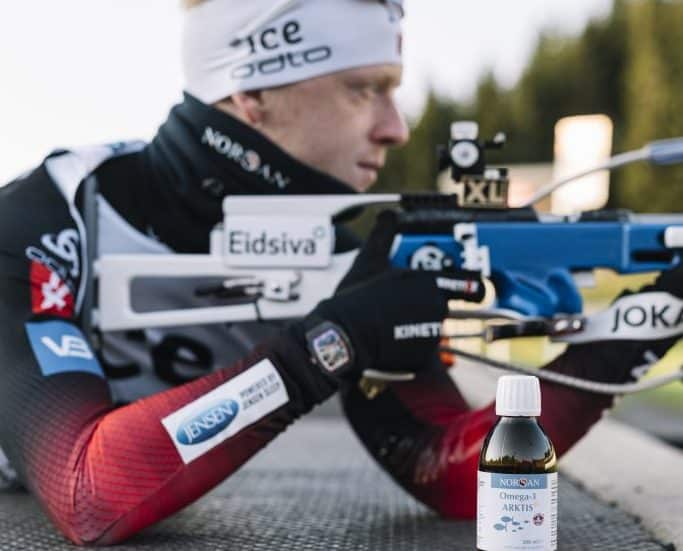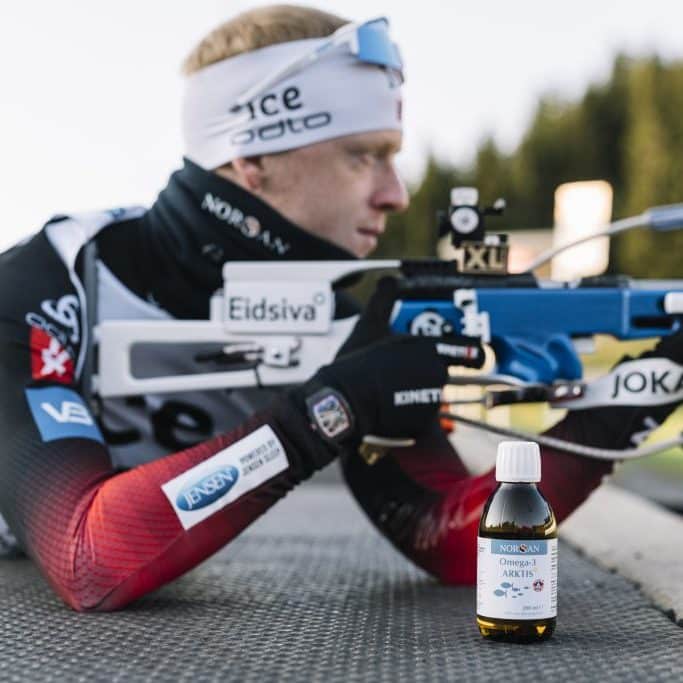 Majore depression
The probability of developing major depression is increased in competitive athletes compared to the average population. The higher the omega-3 level in red blood cells, the lower the likelihood of majore depression. Several meta-analyses confirm that administration of EPA and DHA alone, as well as in combination with conventional psychiatric therapy, proves effective in preventing and treating majore depression. High levels of the fatty acid EPA further enhance the effect, highlighting the anti-inflammatory aspects in efficacy. For this reason, guidelines are now beginning to recommend omega-3 fatty acids EPA and DHA in the therapeutic treatment of major depression.
Cognitive functions and brain damage in athletes
Traumatic brain damage occurs more frequently in sports such as soccer or American soccer. These mostly entail structural brain damage, which can reduce brain performance. It is known that complex brain functions and aspects of brain structure such as memory are related to the amount of EPA and DHA in red blood cells. For example, a four-week study of female soccer players in the Spanish first division showed that efficiency, accuracy and reaction time improved when they took 3.5 g of EPA and DHA per day compared to the placebo group.
The results of intervention studies on cognitive functions such as memory, abstract reasoning and similarly complex brain functions were also positive at doses above 800 mg DHA per day. Thus, it can be concluded that the cognitive functions of athletes in sports involving recurrent traumatic brain injury benefit from high levels of EPA and DHA.
Učinek Omega-3 na mišice
Različne klinične študije so preverjale učinek uživanja Omega-3 maščobnih kislin pred fizičnim naporom, ki lahko povzroči mišično bolečino. Kot so ugotovili strokovnjaki, lahko Omega-3 zmanjšajo ali celo preprečijo bolečine v mišicah. Pri tem je pomembna ugotovitev, da Omega-3 pomembno pripomorejo k odsotnosti otekanja mišic in izgube moči, ki je običajno povezana z mišično bolečino.
Po podatkih britanskih nogometnih igralcev so se podobni učinki pokazali tudi po vadbi in uživanju enkratnega odmerka Omega-3. Dokazano je tudi, da visoka vsebnost Omega-3 maščobnih kislin v telesu zmanjšuje izgubo mišic, povezanih s staranjem.
Učinek Omega-3 na srce
Compared to the average population, competitive athletes are at increased risk of sudden cardiac death. Low levels of the marine omega-3 fatty acids EPA and DHA are 10 times more likely to cause sudden cardiac death than high levels of omega-3.
An intervention study of patients with cardiovascular disease demonstrated that omega-3 intake reduces sudden cardiac death in patients with coronary heart disease.
Effect of omega-3 on joints
The anti-inflammatory effects of EPA and DHA are also likely responsible for the significant relief of pain and other symptoms in patients with rheumatoid arthritis documented in meta-analyses. A richer body of studies can be found on arthritic and osteoarthritic conditions in cats and dogs. In both species, mobility and pain can be improved by administration of the two marine omega-3 fatty acids.
In humans, high levels of EPA and DHA also seem to accelerate the healing process (for example, after knee surgery). However, this has not yet been systematically investigated.
Sources and dosage of EPA and DHA
Mackerel, salmon, tuna and other cold-water fish are particularly rich in the omega-3 fatty acids EPA and DHA. However, it should be noted that long-lived predatory fish such as tuna are at the bottom of the food chain and thus absorb a large number of heavy metals and toxins during your lifetime. Frequent consumption of these fish species is therefore discouraged.
While farmed fish contain increasingly less omega-3 as the feed used becomes lower in omega-3, wild caught fish move more and thus contain less fat overall. If one wants to take a certain dose of EPA and DHA per day, the only remaining option is supplementation with fish oil preparations with guaranteed omega-3 content or a vegetable algae oil as a vegan alternative. With high-quality manufacturers, a thorough cleaning of toxins and other impurities takes place as part of the manufacturing process.
To ensure optimal absorption and processing of omega-3 fatty acids in the body, omega-3 supplements should always be taken together with a main meal or a high-fat meal. This approach activates fat digestion and maximizes bioavailability. To raise the omega-3 index into the target range of 8-11%, a maximum of 5 g of omega-3 (EPA and DHA) per day is usually required.
Conclusion
The average omega-3 index in athletes is well below the target range of 8-11%. This not only results in a reduced life expectancy – also due to the increased likelihood of sudden cardiac death – but also in a reduced function of the muscles, the cardiovascular system, the brain and other organs that are under particular strain in competitive sports.

By maintaining a sufficiently high omega-3 level, athletes can prevent serious diseases such as sudden cardiac death or major depression. Furthermore, the function of muscles and brain can be optimized and the aging process of both organs can be slowed down.
Taking up to 5 g EPA and DHA per day to increase the omega-3 index towards the target range is safe and well tolerated. The index should be repeated with the help of a new fatty acid analysis after about 3 to 4 months and the dose adjusted if necessary.
Prof. Dr. Clemens von Schacky was chief physician of cardiology at the "Medical Park Sankt Hubertus" and is head of preventive cardiology at the University of Munich LMU. He is an expert in the field of cardiology and is directly associated with the field of omega-3 fatty acids in professional circles.
If you are interested in the original article "Omega-3 fatty acids – Levels up in competitive sports!" by Prof. Dr. Clemens von Schacky, please contact us by e-mail post@norsan-omega.com or phone 030 555 788 990 and we will be happy to send you the article.